Escorts rusas en Madrid
MI CANCIÓN FAVORITA
Escorts rusas similares en Madrid
Escorts Madrid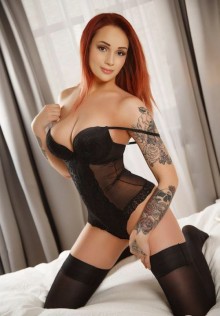 Escorts Madrid
Juliana. Escorts Madrid.
English
Juliana is a hot Russian girl working as Madrid escort just to have pleasure. She is a hot blonde with slender figure, great bosom and lips waiting for your soft kisses. She is a complete party freak and loves to chill out in discotheques, pubs and parties. If you have same taste matching hers, she is perfect for you. You can enjoy till the late hours of party later make passionate love to her gorgeous body. Her love session includes hot kissing session including massage, shower experience, blind folding, BDSM, oral job, striptease, making out in all the positions. Juliana is expert in treating you in exciting ways. You don't have to worry about where to start because she will take care of all your needs. From being your emotional friend to become an extraordinary lover, Juliana excels in every way as an escort. You can confirm an appointment through us. We would love to offer her marvelous service.


Español
Juliana es una de esas chicas que no dejan indiferente a nadie. Su belleza natural, junto a su increíble personalidad, hacen de ella una escort rusa en Madrid imprescindible. Durante algunos años de su vida, estuvo trabajando como actriz porno en Rusia. Si alguna vez quisiste tener una experiencia con una pornstar, este es el momento y la chica perfecta. Conoce a la perfección cómo satisfacer a un hombre, y con su dilatada experiencia seguro que es capaz de enseñarte algún que otro movimiento que no conocías, o placeres que nunca antes habías experimentado. Juliana es una chica con la mente muy abierta, y siempre está deseando hacer cosas nuevas. Si lo que buscas es cumplir una fantasía que nunca te atrevías a proponer, no dudes en contársela y juntos la haréis realidad. A Juliana le gusta mucho salir y divertirse por la noche antes de pasar a la acción. Te aconsejamos que pases un rato con ella por la ciudad. Es una chica muy divertida, y cuando se lo pasa bien es casi más sexy, sensual y atrevida. En la cama, como entenderás tras su trabajo como pornstar, es un torrente de lujuría. No dice que no a nada y te hará disfrutar más allá de los límites. Ella siempre dice que se deja llevar, pero la verdad es que todos los hombres con los que ha estado nos llaman encatados y repiten citas con ella. Juliana no estará mucho tiempo con nosotras, así que aprovecha la oportunidad de conocer a una escort rusa en Madrid como ella y que no te lo cuenten. Juliana es diferente, y recordarás cada instante que pases con ella.
Age

25

Weight

52

Height

170

Breast

3
Are you a traveller?