Escorts rusas en Madrid
MI CANCIÓN FAVORITA
Escorts rusas similares en Madrid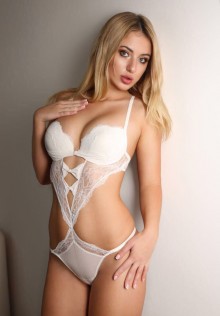 Escorts Madrid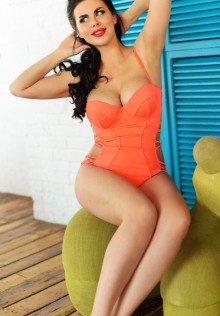 Escorts Madrid
Geny. Escorts Madrid.
English
She is a live version of Barbie doll. With straight golden hair, eyes like cup of wine; well rounded bosom, natural red lips and smooth skin; Geny looks extraordinary. Despite seeing so beautiful, Geny seldom throw any tantrums at all. She is happy to accompany you to any decent place like restaurant, shopping street even on vacations too. She likes to have a great conversation before taking to bed. For that, she may make a drink as you enter her apartment, give you a head massage or just ask you about your likes, dislikes without hurting your feelings. She pleases you in such a way that for some moment, you would feel like having a real GF. As she sees you romantically involved, she will come close and give you passionate kiss on lips, simultaneously allow you to play with her sexy boobs. Then, she proceeds to whole body kissing and finally enjoy coupling in KS or missionary positions. She is excellent in lip locking even teach you some tricks of making your woman horny too. This Madrid Escort is sure not a miss for youngsters looking for a real girlfriend experience. You don't have a GF in real life, but at least you can have her for some hours. Please call or message us on Whatsapp to get a date with her.


Español
Si has llegado hasta aquí tienes que saber que tu camino ha merecido la pena. Estás ante una de las escorts rusas en Madrid con más erotismo y lujuria que vas a poder encontrar. Geny es una joven chica del este que llegó a España con las ganas de una adolescente que quiere darse a conocer y crecer tanto personal como profesionalmente. Y la verdad es que le está yendo muy bien porque tiene un carácter y una personalidad que enamoran, y en todas sus citas consigue que sus acompañantes queden tan satisfechos que siempre repiten. Geny busca siempre la complicidad a través de la sensualidad y de su devoción por el sexo duro y morboso. Si estás pensando en tener una cita para hacer cosas denominadas "prohibidas", ella es tu elección perfecta. Cuanto más morboso y escondido sea el lugar donde podáis entregaros el uno al otro, más excitada encontrarás a Geny. Sus servicios son completísimos, y no le dice no a nada. Eso sí, cualquier cosa que te apetezca llevar a cabo tendrás que comentárselo antes. Le gustar estar preparada y poder llevar un poco más allá tus fantasías. Elige a una escort en Madrid como Geny y descubrirás un mundo que nunca antes supieste que existía.
Age

19

Weight

50

Height

165

Breast

3
Are you a traveller?