Escorts rusas en Madrid
MI CANCIÓN FAVORITA
Escorts rusas similares en Madrid
Escorts Madrid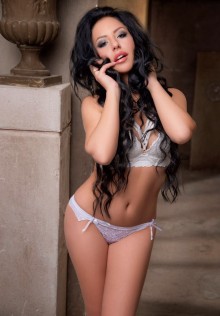 Escorts Madrid
Kassandra. Escorts Madrid.
English
Hi, I am Kassnadra, a Russian hottie escort in Madrid. I stand apart from blondes and brunettes as I have slender figure, big natural tits, smooth skin and black curly hair. I prefer my man to play dominant role while having great time with me in bed. I get pretty excited when you hold me tight in your arms, give me passionate kisses from top to bottom and run your hands over my smooth body. Finally, I spread my legs wide open to accept you deep inside my body. I can give you pleasure in KS, missionary or any other intimate position that you have seen in erotic movies. Nature-wise, I am a good girl who would do anything to please her man. I can accompany to parties, dinner dates, social functions even on vacations too. For some hours, you have total control over me. Actually, I act as your paid slave with whom you can do anything. But that doesn't mean that I will tolerate your all sorts of nonsense. If you are rude, tell me to do objectionable things; then I may cancel our date. I personally believe that pleasing someone should not come at cost of self-respect. Hence, it should be a playful act without harming anyone. Kindly call my firm or drop a message to get a date with me. I am dying to please you.

Español
Hola a todos. Soy Kassnadra, una preciosa escort rusa en Madrid que he venido hasta aquí para poder cumplir un sueño: hacer todos tus sueños realidad. Me encanta ayudar a la gente, y hacerles sentir que son lo más importante del mundo para mí. Eso, unido a mi obsesión por el sexo, me hizo decidirme para trabajar en esto. Soy una chica que complacerá cualquier fantasía que puedas tener. Me encanta improvisar y explorar todo lo que el sexo tiene que ofrecernos. Puedes ver en mis fotos que tengo un pecho que te volverá loco, y que cuido mucho todo mi aspecto físico para que cuando me conozcas sientas que estás ante una belleza única y espectacular, solo para ti. Déjame ser tu escort rusa en Madrid y llevarte a sitios de los que no querrás volver nunca. Un beso.
Age

23

Weight

54

Height

171

Breast

5
Are you a traveller?